Dead Fervor Edit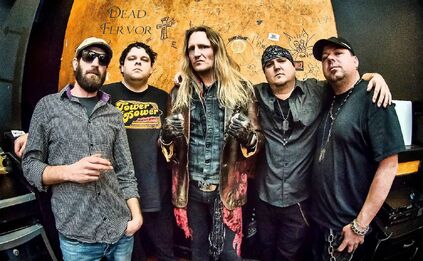 Dead Fervor is a hard rock band formed in late 2017 by singer Ryan X and guitarist Jaremy Jess. Lead guitarist Jared Robinson, originally from the Utah rock scene, joined not long after. The band line-up was completed when bassist Jason Reeder and drummer Jared "ATTY" Smith joined.
Dead Fervor has had the opportunity of sharing the stage with many popular and beloved bands including Skid Row, Dizzy Reed of Guns N' Roses, Queensryche, the Iron Maidens, Cheap Trick, Fuel, Quiet Riot, Faster Pussycat, Adelitas Way, Theory of a Deadman, Saliva, Stryper, Great White and many more!
Dead Fervor released their debut album, Vol. I, July 16th of 2019. The album has been a success with fans, being "...packed full of exquisite riffs, intuitive percussion and well-executed vocals[1]," and "a masterpiece of hard rock/metal with some interesting styles being blended into the mix, such as Country, some Glam metal, blues, a hint of punk and some classic heavy metal for good measure[2]." The album shows a diverse amount of influences that a listenter "can't quite put a label on their style, Dead Fervor are pure and simple a pure kick ass rock and roll band of the highest order[3]."
Community content is available under
CC-BY-SA
unless otherwise noted.